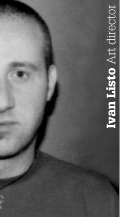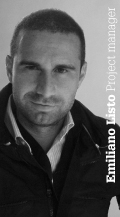 Ivan Listo is a multi-disciplined graphic designer specializing in branding and printing. He holds a degree from
London College of Communication
and works for local, national and international clients.
Ivan is a keen traveller who indulges
in beautifully designed things. He believes that the essence of any design is communication. By scrutinizing the world he finds new ways of communicating through typography and graphic design.The ethos of his work is understated elegance.
Ivan Listo è un graphic designer con competenze multi disciplinari specializzato nell'ideazione e creazione di brand e
nella realizzazione di progetti grafici per
la stampa. Si è laureato presso il London College of Communication e lavora con clienti nazionali ed internazionali.
Ama viaggiare e collezionare oggetti dal design ricercato. Osservando e studiando
le diverse culture coglie nuovi modi di comunicazione attraverso la tipografia e
il design grafico.
L'essenza del suo lavoro è caratterizzata
da una sobria eleganza.
Emiliano Listo si è laureato presso l'Università degli Studi di Roma 
"La Sapienza" – Facoltà di Economia e Commercio e ha maturato la propria esperienza lavorando principalmente in aziende operanti nel settore farmaceutico.
Entra facilmente in relazione con persone di diversa nazionalità e cultura, interpretando ed adattando la comunicazione e le richieste alle diverse sensibilità personali, religiose e culturali.
Ama integrare le proprie energie con quelle degli altri per il raggiungimento degli obiettivi.
Copyright © Listo Typo-graphic design 2006. All rights reserved.
Holding a degree in Economy and Commerce at Università degli Studi
di Roma "La Sapienza", Emiliano Listo developed his working experience in companies operating in the pharmaceutical field.
He likes establishing business contact
with people from different cultural backgrounds and nationalities,
interpreting and adapting communication and requests to the appreciation of each individual according to their religious
and cultural peculiarities.
Emiliano enjoys complementing his own energies with those of others in order to achieve common goals.